Welcome to the Mitsudomoe Wiki!
Hello and welcome to the Mitsudomoe! Wiki, the free encyclopedia for the anime and manga Mitsudomoe that anyone can edit. Please feel free to contribute to our site and help us complete our goal to build the most informative site for everything related to this series. From all the editors here at the Mitsudomoe! Wiki, thank you for your contributions.


There are currently 5,120 edits to 103 articles since November 2010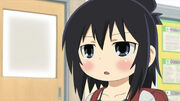 Hitoha Marui (丸井 ひとは Marui Hitoha) is the youngest of the Marui triplets. She tends to be quiet and mysterious.
Personality and Interests
She can nearly always be found a book in class which has shown to be very erotic. If anyone tries to take it away from her, she gives them a deathly glare. When disturbed, she can be even crueler than Mitsuba. Despite her frightening appearance, Hitoha is scared of heights and swimming. She is a big fan of Gachi Rangers (a parody of Super Sentai/Power Rangers) but doesn't want to say it out loud, even though she wants to.
The Marui Family! The Good, the Bad, and the Fearsome! (Marui-ke! Yoi Ko Warui Ko Osoroshii Ko! 丸井家! 良い子 悪い子 恐ろしい子!!) is the first episode of Mitsudomoe. It was aired on July 2, 2010.
Summary
Newly hired teacher Satoshi Yabe begins his job teaching class 6-3 and soon becomes aware of the terrible Marui triplets: Mitsuba, Futaba and Hitoha. When the triplets notice Yabe might have a crush on the new school nurse, Aiko Kuriyama, they purposely try to injure his groin in the hope that Kuriyama will like what she sees. When Yabe incidentally gets injured after running into Kuriyama, she confuses him for a fourth grader (she's blind without her glasses). Yabe gets the class a pet hamster, which Hitoha names Chikubi (Nipples) and becomes attached to it. When others start to play with her too much, Hitoha starts becoming defensive.